Are you a movie lover like us? If so, then we may just have another reason why you need to visit us in the capital of Andalucia. We're going to show some of the coolest movies & tv shows shot in seville, from as early as the 1960's until very recent. Films such as 007 and the primetime Emmy award winning Game of Thrones…
For anyone that's already been lucky enough to have seen for themselves, it will come as no surprise that this region has attracted so many directors to shoot some of the world's most iconic scenes in. With its rich architecture and historical legacy, this place is a paradise for movie makers!
So grab your popcorn and get comfy... ready?
Lights, Camera, Action!
STAR WARS EPISODE ll - ATTACK OF THE CLONES (2002)
Of course we couldn't hold back from bragging about this one first... Whilst you may not be able to travel to that galaxy far, far away, visiting la Plaza De España is a cool way to immerse yourself in the Star Wars Universe.
With its regal colour scheme and intricate architectural design, there's no wonder why George Lucas chose this landmark for the perfect setting.
With its regal colour scheme and intricate architectural design, there's no wonder why George Lucas chose this landmark for the perfect setting.
La Plaza de España monument was built for the Ibero-American Exhibition of 1929. Located in María Luisa Park, it was the centrepiece of the exhibition and featured many pavilions, which aspired to show off to the world Spain's accomplishments in industry and architecture… Well they sure showed us!
But this wasn't it's only moment in the spotlight. You may have seen this distinctive building before and didn't even know it!
The Dictator (2012) starring Sacha Baron Cohen
Lawrence of Arabia (1962) Starring Peter O'Toole
Conveniently you can visit this landmark any day of the week and is completely free!
Although we highly recommend that you take advantage of one of our free walking tours to gain a wider knowledge of interesting facts and history of this place!
Now let's proceed to next location... Roll on 2!
Recognise this place by any chance?
This is the Italica Amphitheatre, part of a Roman city that's just a 45 minute bus journey from Seville center. It dates as far back to the year 206 BC and was the birthplace and home to the great emperors, Trajan & Hadrian!
But what has this got to do with movies and TV shows shot in Seville?
Recognise it now?
Be honest, Did you get?
Game of Thrones (season 7 and 8)
That's right, the Italica or (Khaleesi's dragons pit) wasn't just used in one, but two seasons of the Emmy winning show!
Of course we can't over shadow the fact that this preserved Roman city was always worth a visit. But just in case you needed an extra push then here it is.
Oh, and some more good news! The entry is completely free for all EU citizens. Although don't worry too much if this doesn't apply to you, the entry fee otherwise is €1.50. The gates are open 6 days a week, Tuesday till Saturday.
For up to date opening hours (dependent on season): You can either check on their official website here,or just come and see us at reception as you head out and we'll be happy to give you all the information that you need. We are located just a 10 minute walk from La Plaza De Armas station, where you can catch the bus from! In the meantime If you haven't already, you can book your stay with us directly on our secure website here. At you least then you can be sure that you're staying at the best hostel around.
Knight and Day (2010) Starring Tom Cruise & Cameron Diaz
Seville was chosen in order to recreate the festival of San Fermin in the Real Maestranza de Sevilla. Throughout the scenes, you'll see many of our sites such as La Plaza Nueva, the Alcazar and La Maestranza bullring.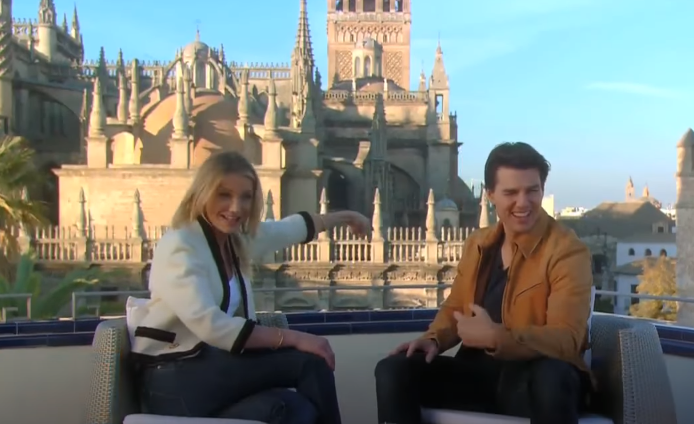 Although this wasn't the first time that Tom was in a bit of a pickle in Seville. He was also here 10 years earlier playing Ethan Hunt in Mission Impossible 2!
Here's another one for you GOT fans out there! Still in Sevilla, but at one of our most impressive monuments...
The Real Alcazar. With its distinctive colorful ceramic tiles and renaissance gardens with fountains, flowers, and a maze; you can easily see why the producers of Game of Thrones chose it to be The Kingdom of Dorne and the water gardens of Sunspear.
Game of Thrones: Season 5-6
No amount of pictures can do this palace justice, it's one of those places that you just have to see for yourself. Declared as a UNESCO World Heritage site. It's the oldest palace in Europe that's still in use.
To plan your visit to the Royal Alcazar and gain updated information just visit their site here
007 Die another day (2002) Starring Pierce Brosnan
Do you remember Halle Berry emerging from the Habana-like warm waters and reaching the Cuban-like chiringuito? Well, the scene belonging to the 20th film of the James Bond series was actually shot on Cadiz's beach La Caleta!
Okay so this isn't Seville but it's close enough! If at anytime you fancy day out to beach then you can do so by simply catching the train from Sevilla Santa Justa station.
ANNNNND CUT!
That's it for now, be sure to keep an eye out to see what else we add to the list in the future!
In the meantime why don't check what other fun activities you can do during your stay in Seville.