Are you a movie lover like us? If so, then we may just have another reason why you need to visit us in the capital of Andalucia. We're going to show some of the coolest movies & tv shows shot in seville, from as early as the 1960's until very recent. Films such as 007 and the primetime Emmy award winning Game of Thrones…
Para quem já teve a sorte de ter visto por si mesmo, não será surpresa que esta região tenha atraído tantos realizadores para filmar algumas das cenas mais emblemáticas do mundo. Com a sua rica arquitetura e património histórico, este lugar é um paraíso para os cineastas!
Então pega nas tuas pipocas e fica confortável... pronto?
Luzes, câmera, ação!
STAR WARS EPISODE ll - ATTACK OF THE CLONES (2002)
Of course we couldn't hold back from bragging about this one first... Whilst you may not be able to travel to that galaxy far, far away, visiting la Plaza De España is a cool way to immerse yourself in the Star Wars Universe.
Com o seu esquema de cores reais e o seu design arquitetónico complexo, não é de admirar que George Lucas tenha escolhido este local para o cenário perfeito.
Com o seu esquema de cores reais e o seu design arquitetónico complexo, não é de admirar que George Lucas tenha escolhido este local para o cenário perfeito.
O monumento La Plaza de España foi construído para a Exposição Ibero-Americana de 1929. Localizado no Parque María Luisa, foi a peça central da exposição e contou com muitos pavilhões, que pretendiam mostrar ao mundo os feitos da Espanha na indústria e na arquitetura...Certamente nos mostraram!
But this wasn't it's only moment in the spotlight. You may have seen this distinctive building before and didn't even know it!
The Dictator (2012) com Sacha Baron Cohen
Lawrence da Arábia (1962) com Peter O'Toole
Convenientemente podes visitar este monumento em qualquer dia da semana e é completamente grátis!
Embora recomendemos vivamente que tires partido de uma das nossas free walking tours para ter um conhecimento mais amplo de factos interessantes e da história deste lugar!
Now let's proceed to next location... Roll on 2!
Reconheces por acaso este lugar ?
Este é o Anfiteatro de Itálica, parte de uma cidade romana que fica a 45 minutos de autocarro do centro de Sevilha. Remonta ao ano 206 a.C. e foi o berço e o lar dos grandes imperadores, Trajan & Hadrian!
Mas o que é que isto tem a ver com filmes e programas de televisão filmados em Sevilha?
Agora Reconheces?
Sê honesto, percebeste?
Game of Thrones (7ª e 8ª temporadas)
É verdade, a Italica (ou o poço dos dragões de Khaleesi) não foi usado em apenas uma, mas sim em duas temporadas da série vencedora do Emmy!
É claro que não podemos ignorar o facto de que esta cidade romana sempre mereceu uma visita. Mas só para o caso de precisares de um empurrãozinho extra, aqui está ela.
Oh, and some more good news! The entry is completely free for all EU citizens. Although don't worry too much if this doesn't apply to you, the entry fee otherwise is €1.50. The gates are open 6 days a week, Tuesday till Saturday.
Para horários de funcionamento atualizados (dependendo da estação): Pode verificar o seu site oficial aqui,or just come and see us at reception as you head out and we'll be happy to give you all the information that you need. We are located just a 10 minute walk from La Plaza De Armas station, where you can catch the bus from! In the meantime If you haven't already, you can reservar a tua estadia diretamente connosco no nosso site aqui. At you least then you can be sure that you're staying at the best hostel around.
Knight and Day (2010) com Tom Cruise & Cameron Diaz
Seville was chosen in order to recreate the festival of San Fermin in the Real Maestranza de Sevilla. Throughout the scenes, you'll see many of our sites such as La Plaza Nueva, the Alcazar and La Maestranza bullring.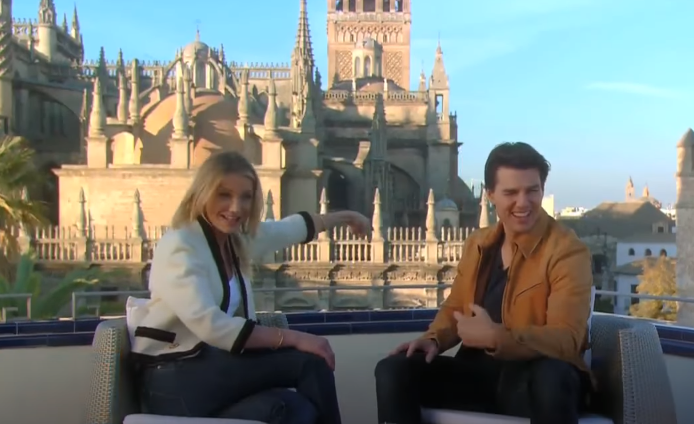 Embora esta não tenha sido a primeira vez que o Tom esteve num pequeno sarilho em Sevilha. Ele também já esteve aqui à 10 anos atrás a jogar Ethan Hunt em Missão Impossível 2!
Aqui está outro para os fãs de GOT! Ainda em Sevilha, mas em um dos monumentos mais impressionantes...
O Real Alcázar.Com os seus azulejos coloridos e jardins renascentistas com fontes, flores e um labirinto; podes facilmente ver porque é que os produtores do Game of Thrones escolheram este local para ser O Reino de Dorne e os jardins aquáticos de Sunspear.
Game of Thrones: Temporada 5-6
No amount of pictures can do this palace justice, it's one of those places that you just have to see for yourself. Declared as a UNESCO World Heritage site. It's the oldest palace in Europe that's still in use.
Para planeares a tua visita ao Royal Alcazar e obter informações atualizadas basta visitar o site aqui
007 Die another day (2002) com Pierce Brosnan
Lembras-te da Halle Berry a emergir das águas quentes da Habana e a alcançar o chiringuito cubano? Bem, esta cena pertence ao 20º filme da série James Bond e foi realmente filmada na praia La Caleta em Cádis!
Okay so this isn't Seville but it's close enough! If at anytime you fancy day out to beach then you can do so by simply catching the train from Sevilla Santa Justa station.
EEEEEEE CORTA!
That's it for now, be sure to keep an eye out to see what else we add to the list in the future!
In the meantime why don't check what other atividades divertidas que podes fazer durante a tua estadia em Sevilha.